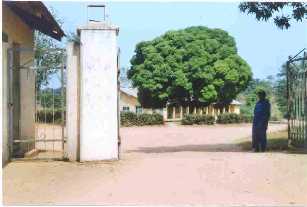 St Mary's Joint Hospital 1955
The importance of primary health care is of immense concern in every society. The lack or non functionality of a health care compels one to seek for the service beyond its reach or vicinity, so as to maintain a healthy state of mind and body.
Amaigbo natives pre-empted the need for such health service as far as 1939, and in 1955 built its first general hospital, St Mary's Joint Hospital (Mbara Ukwu), through government effort and concerted efforts of Amaigbo natives, who donated their land; to ensure that this task is accomplished.
Mbara Ukwu serves Amaigbo natives as well as neighbouring towns in the environs. It is to date the only hospital in Amaigbo. However, there are established private clinics and maternity homes in the town, which, provides similar service as the general hospital, but on a very small scale.
In as much as the natives pre-empted and envisaged the need for a health service, there is just one small snag. The hospital is no longer at the cutting edge of a health centre due to neglect from the government: the major road leading to the hospital is bad through poor irrigation; most hospital equipments are sub-standard, not available, or even obsolete. Also, it has become extremely expensive for an average person to afford a medical card let alone seek the service of a medical practitioner. These prevailing factors, have sadly, renege the raison d'etre for a health service in the first place.
I pray Amaigbo natives would take pro-active measures in restoring one of the landmarks in the town, and not let it deteriorate through neglect, particularly, from the government whom, it is hoped would salvage the situation.
The state of being physically and mentally healthy was one of the underpinning factors which facilitated the birth of St Mary's hospital, we pray the natives will share the same dream and aspirations of its predecessor and be encouraged and motivated to restore the state of St Mary's, which is a pivotal point for providing health care, education and training for trainee medical students and also employment for the locals.
---