Jaja of Opobo
(1821-1891)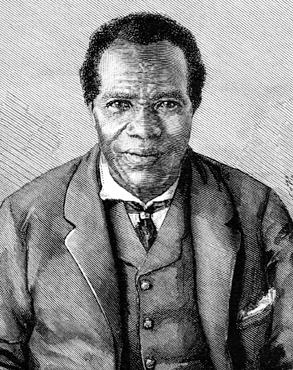 There are some people in life who enjoy putting one in a box and try as much as they can to stifle those they have held in bondage so that they are unable to achieve anything in life. Sadly, some of those who have been held in captivity ironically live up to the dreams and wishes of their captors. Others on the other hand, find a niche for themselves within the box they've been held in captivity and remarkably strive to achieve success in life.
Their remarkable liberation has been brought on about for after all, the captors are not necessarily the captives' creator and therefore cannot dictate how the captives' life should be led. Our life after all, is like a pencil in God's hand who has mapped out the path for our lives. Our life is like a book in the creator's hand who unfolds every chapter when he sees fit. "He holds us in the palm of his hands and our ways is constantly before him". It would therefore be a gross travesty of destiny for one to think he can successfully control and affect ones life.
Ironically, when it seems to the captor that all odds are against their captives' and that everything seem to turn topsy-turvy for them, the captives' creator provide a path for them to follow to be liberated from their captivity and achieve what they have been destined for.
The late Jaja of Opobo was one of such rare individuals who was privileged to be used by his creator to affect humanity. His imperturbability and sense of focus despite his captivity and consequent confinement earned him the respect, dignity and favour even among those who held him captive.
King Jaja whose real name was Mbanaso Okwaraozurumba, the third son of Mr and Mrs Okwaraozurumba was born at Úmuduruõha Amaigbo in 1821.
The late Mbabaso Okwaraozurumba was sold as a slave at the tender age of twelve to a Bonny trader. He first named Jubo Jubogha by his first master and was later named Jaja by the British.
While to some people, slavery would have meant a demise to their destiny, to Jaja, slavery heralded the beginning of better prospects. He learnt his master's trade (a trade in palm oil) whilst a slave, and later acquired great business skill and acumen.
Jaja's incredible, daring and scintillating aptitude in business ideologies and prowess were such that he was able to clear huge debts owed by his late master. He was also able to extend the business by involving other houses, increasing operations in the wastelands and enlarging the number of European contacts. Jaja remarkably, became a small fish in a large pond. He later became the head of the Anna Pebble House after the death of his king Illoli Anni the people of Bonny. He also became a very wealthy man.
Jaja was well versed in his business that he refused to be dictated by the rules of the British traders. He defied trading rules by shipping oil directly to Liverpool, and continued to regulate and levy duties on British traders. He ordered a cessation of trade until one British firm agreed to pay duties. The British traders took his actions as a slap in the face, after all threats made against Jaja to desist from defiling trading rule fell on deaf ears.
He was subsequently lured into a meeting where he was arrested and sent to Accra. Jaja was tried and found guilty of "treaty breaking" and "blocking the highways of trade".
He was sent to St Vincent, West Indies to serve his prison sentence and four years later, died en route to Nigeria after he was allowed to return.
The late Jaja was indeed a man of astounding quality; he was a man who did not allow abduction and slavery to ruin his chances in life but however, used his captivity as a way of helping those around him. Jaja was indeed a man whose zeal and conquest knows no bound. There is no doubt what the late Jaja could have done to change the course of humanity had human greed and selfish interest not stood in his way. He was a remarkable man indeed; son of duruoha and a great son of Amaigbo who made great impact to humanity and society at large.
For follow up stories on the life of Jaja, watch the scintillating movie entitled "Jaja of Opobo" produced and directed by Francis Agu. It is a very inspiring movie which provides insight into Jaja's tremendous effort to stop the exploitation of African resources by the British.
---