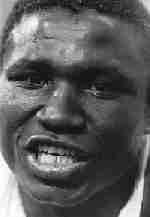 Some people have attained fame through some form of serendipity, to others a providential life culminated in struggles, grim work, hardship, a heroic and indefatigable spirit to overcome or prevail over their present circumstance(s). These could be attributed to the late pugilist, Richard Ihetu whose sobriquet was Dick Tiger.
The late boxer was indeed a man of great outstanding and incredibly pugilistic skills. Richard Ihetu was born in Eluowere Ubahu, Amaigbo, on the 14th of August in 1929. His primary education was at the Holy Trinity School Amaigbo.
Dick Tiger learnt his grim work skills initially from an inherited agrarian background. He cultivated on his father's farm whilst in Amaigbo. Uncertain of what the future had in store for him, but with determination to excel beyond his present situation as was stereotypical among his men-folk, Richard Ihetu embarked on a journey which was destined to change his future. Thus, his subsequent exodus to Aba as a market trader, selling empty bottles.
Sadly, earning a living as a bottle seller could not be likened to the physical skills associated with farming neither did it help the pugilist measure up to the standard he'd hoped to attain. Dick Tiger discovered that his meagre trading could not meet the daily needs apposite for his sustenance let alone meet the aggrandisement he envisaged.
Hypothetically, he was caught between going back to farming; an occupation which had long been forgotten in search of a better prospect to that of 'hanging on' as a bottle seller until his chi put a smile on his face, until he could find something much better than selling empty bottles, for after all, he was determined to escape the hardship and municipal of urban life.
His chi certainly answered his prayers. He found favour with a British military man who enlisted him in boxing career. Richard Ihetu participated in interclub contests arranged by British military officers in out sketch of Aba. He practiced and competed with such dexterity, that his career spiralled in the 1950's. Dick Tiger fought against the high flying pugilists, the likes of Easy Dynamite - Mighty Joe and Super Human Power and became the undefeated boxer of the nation.
Dick Tiger emigrated to Liverpool in England in 1955 having exhausted the local opposition. However, his anticipation of Britain waned. He found the ambience and food of the place hard going. Likewise, the country's deep recession brought about an incapacitated tax on sporting events. Dick Tiger refused to renew his contract with his second British Manager, and consequently, migrated to New York (United States of America).
He fought outstandingly with many opponents, some were bouts which the pugilist was described as a "stand out" fighter; the organisers were enchanted to pay him a television appearance in excess of the original stipulated fee.
Above all, his stellar performance which herald great achievement in boxing history was the rematch between Dick Tiger and Gene Fulmer in Ibadan, Nigeria in 1963. Dick Tiger displayed outstandingly pugilistic bout against his opponent, a fight which floored and dazed Gene Fulmerhimself. It is said that to be floored by an opponent means defeat, but to be floored by someone of 'less' fame and pugilistic dexterity compared with his opponent is more than a defeat. In fact the fight was a big disgrace for Dick Tiger's opponent. I guess Gene Fulmer was mesmerised by his opponent's boxing skills and physical strength, exhausted by his punches, intimidated by the jeer and boo at him and ultimately saddened by the cheers at Dick Tiger (as it was told, the rematch took place in Dick Tiger's domain). Confusion, melancholy, distraction and above all physical weakness took the better part of him. Gene Fulmer as a result lost the fight, he left Nigeria a defeated boxer.
Dick Tiger's boxing career continued to spiral, with good number of winnings and some loses until an unwelcomed illness took its toll on him. Sadly, It was a deadly and deplorable sickness which was to set to reverse the dreams, envisions and aspirations of the late boxer.
Mr Ihetu's boxing career plummeted after he contracted cancer. He stopped boxing after consultations with his doctor about his debilitating health. He subsequently travelled home to Nigeria. He was laid to rest on the 14th of December 1971.
Dick Tiger was a great man of many parts; a man who started in life with practically nothing, as a 'nobody' but has made tremendous impact on those he's left behind. His hindsight and wisdom in building a secondary school even though he did not have a secondary education is very inspiring. He was also known to have helped his men-folk during the Nigerian/Biafran war. Legend has it that the late boxer staged free matches. The money raised was used to help ease the worsening conditions of his men-folk in war camps. Dick Tiger indeed has left an equivocal mark which no Amaigbo native has ever matched.
A man of dynamic qualities, endowed with skills, enriched in wisdom, guarded by instinct, prolific in inspiration, enthused with the desire to change the lives of people around him, sadly, haunted by a deplorable and unwelcomed illness, and cheated and conquered by death. Great Dick Tiger, Your career, fame, and contributions to humanity has made profound impact on everyone. May it continue to imbibe on humans particularly your men-folk and may one aspire to be like you and endeavour to emulate your good deeds. Above all, may your dear soul rest in perfect peace, Amen.
It was anticipated that there would be a chip off the block from one of his children, unfortunately, none followed in his stead. None the less, the late boxer's children have chosen different careers; one of which is amongst Amaigbo's notable lawyer.
---